The arrival of spring brings longer days, a fresh start, and spring foods we can use for light, refreshing salads and hearty, comforting soups.
Spring is the perfect time to enjoy a variety of seasonal fruits and vegetables. Some delicious items that come to mind include asparagus, artichokes, and strawberries. They can be enjoyed in a variety of dishes, from salads to sides to main courses.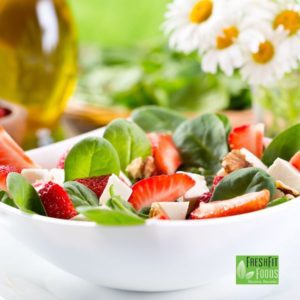 Asparagus, with its delicate flavor and crunchy texture, is a nutrient-rich vegetable perfect for savory dishes like risotto, quiche, stir-fries, and salads. Add a drizzle of olive oil and a sprinkle of salt for an easy, flavorful side dish.
Artichokes are another favorite, with a unique texture and flavor that can't be beat. Steamed or roasted, artichokes can be enjoyed as a side dish or as part of an entree like a stuffed artichoke dish.
To add a touch of sweetness, consider using strawberries for dessert or to add flavor to a salad or side dish. They can even add a sweet touch to an entree. They are rich in vitamin C and other antioxidants so they're good for you.
For a light and refreshing salad, try tossing together spring greens, shaved asparagus, and thinly sliced strawberries, then topping it off with a simple vinaigrette. Or, for a heartier dish, try roasting artichokes in the oven and serving them with a garlic-lemon sauce.
If you're looking for a comforting soup, try making a spring vegetable soup, which can be loaded up with asparagus, artichokes, and whatever other vegetables you have on hand.
Of course, no spring meal would be complete without a sweet treat. From rhubarb crumbles to strawberry shortcakes, there are plenty of ways to enjoy the flavors of the season.
These are just a few of the delicious spring foods that should be on your radar. Whether you're putting together a simple salad or cooking up a gourmet meal, the freshest spring vegetables are sure to add flavor, nutrition, and joy to the table.
And, if you want to enjoy fresh, healthy meals but don't have the time or patience to prepare them, try Fresh Fit Foods. You get delicious ready-to-eat meals delivered!