One of the benefits of prepared meal services is that you get to try new dishes. The meals often aren't things you would think to make for yourself. This makes your meals anything but ordinary.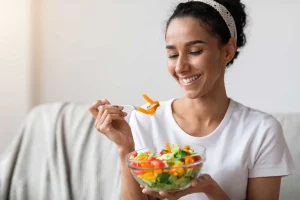 At Fresh Fit Foods, we pride ourselves on creating dishes that are not only healthy but also taste great. When you eat our meals we want you to enjoy the flavors and look forward to your next meal. Eating healthy shouldn't be boring. It should be fun and keep you excited about eating healthy.
When you enjoy the meals, it makes it easier to maintain a healthy lifestyle. Variety keeps it interesting. We offer several different menus to choose from, each with a wide variety of dishes.
Try new dishes
When most of us cook, we tend to stick with a few favorite dishes or things we enjoy making. When someone else is doing the cooking, you are exposed to a variety of foods you may not use on a daily basis. It's not just new foods but also new combinations of foods. These combinations create flavorful dishes.
Grilled chicken may be a common staple at your dinner table but how about Chicken Chasseur (of the hunter)? This meal includes grilled chicken with demi-glace, fresh tomato, sauteed mushrooms and fresh sage served with parmesan mash potatoes and steamed broccoli. It's only 500 calories and contains 20 grams fat, 32 grams protein and 48 grams carbs.
Chicken and mashed potatoes are popular foods but you probably haven't had them prepared like that! It's healthy and tastes great.
That's just one example of how you can make common foods more exciting!
Whether it is lunch or dinner, we make sure our meals are healthy yet tasty. We enjoy finding the best combinations to get the best flavor in every dish. We also change things up to keep your taste buds excited for what's next.
We offer a healthy lifestyle menu as well as vegan, paleo and senior meals. Each meal is specific to the type of diet so you know you are getting the nutrition you need.
If you'd like to give Fresh Fit Foods a try for lunch or dinner (or both), sign up today! We even offer a one-week trial!