Most people talk about getting healthy and eating right at some point in their lives, especially at the start of a new year. After all, healthy eating benefits the body and mind.
However, for many people, getting healthy and eating right seems like a huge task. There's a lot to think about as you plan your meals, and even more to buy.
There's plenty to learn when it comes to eating healthy, which is why we're here to help with our delicious fresh meals. But why should you start eating a healthy diet come the first of the year? Well, let's break it down.
Healthy eating benefits
Improved physical health
An important reason why you should start (or continue) eating healthy for the new year is that you're likely to improve your physical health by doing so. The more junk you put in your body, the bigger the toll it will take on your physical health. Those who start to eat healthily will be more likely lose weight, clear up their skin, improve their blood pressure, and become healthier overall than those who continue to eat poorly.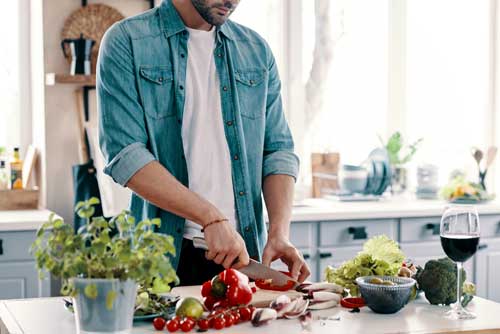 Improved mental health
Not only does eating right and getting healthy improve your overall physical health, but it also does wonders for your mental health. This is not only due to improved confidence but also due to the fact that extra preservatives, additives, and other unhealthy food choices tend to do a lot of harm to our mental health. Cleaning up your eating habits not only helps your body but also helps your mind.
Improved confidence and relationships
Food is a big part of our lives. We use food as a way to get together and bond. However, sometimes this causes unhealthy habits. When you feel better, your attitude and mood improve. Feeling positive spreads to others and helps grow relationships.
If you want to eat healthy but aren't sure how to make tasty meals you'll enjoy, get our fresh, healthy meals delivered to you. They are ready to eat and taste great! Every meal is healthy. You can start out with a one-week trial if you aren't ready to sign up for a monthly plan. You can also check out our many menus and creative dishes. Contact us today about how we can help you become the best version of yourself this coming new year. You deserve it!