Healthy holiday recipes are a great way to maintain healthy eating habits while still having something to share with your friends and family. The holidays are often a time when healthy eating falls to the side due to the abundance of unhealthy options that are popular options at gatherings.
Healthy Holiday Recipes
If you are looking for healthy holiday recipes, look no further. Try making one of these dishes and share a healthier option this year.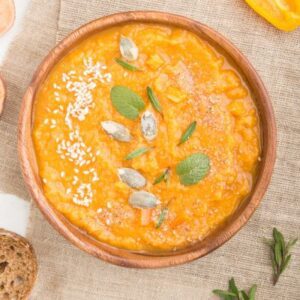 Curried Sweet Potato Puree: This easy-to-make dish is great if you want to make and share a dairy-free side. It features sweetness from the potatoes and a light heat from the ginger and curry. Get the curried sweet potato puree recipe.
Garlic Sesame Green Beans: A green bean dish may sound boring, but this one takes the hearty vegetable and steps up the flavor with sauteed garlic and toasted sesame seeds on top. Green beans are an easy, healthy option during the holidays as they help regulate blood pressure and fight inflammation. You can find the garlic sesame green bean recipe here.
Vegan Spinach Dip: Gatherings with friends and family often come with snacks. Make the chips feel a little healthier with this healthy holiday recipe. This vegan spinach dip has all the flavors you love without the cheese and extra fats. Plus, you can make it in about 20 minutes.
Roasted Turkey with Butternut Squash & Asparagus: If you oversee the main course, try a take on the classic turkey dinner. This healthy holiday recipe is full of vegetables and serves up to eight people. You may even want to add this meal to your recipe book for non-holiday gatherings. Check out all the steps to make this roasted turkey with butternut squash and asparagus.
Banana Bread: A holiday meal isn't complete without dessert. Banana bread might not be the first thing you think of as a healthy option, but this recipe adds elements to the classic bread to reduce saturated fats and avoid added sugars. You can even turn it into a breakfast treat alongside a fat-free Greek yogurt or mixed berries. Learn how to make this delicious banana bread.
A healthy holiday recipe doesn't have to sacrifice flavor. There are many more than the ones above, but we think this is a great start.
If you want to keep up with eating healthy during the holidays and the rest of the year, try our healthy prepared meals. At Fresh Fit Foods, we deliver them to you with fresh ingredients you will love. Contact us online or call (239) 595-2503 to learn more.