If you're responsible for taking care of elderly parents or other loved ones, making sure they get the proper nutrition is probably difficult and time consuming. With our prepared meals for seniors, we can help relieve a little pressure.
The senior meal plan is specifically designed for ages 60+. All of the meals are gluten-free and made from scratch with fresh ingredients. The meals are already prepared and just need heating. They're even delivered for you in the Naples and Fort Myers areas.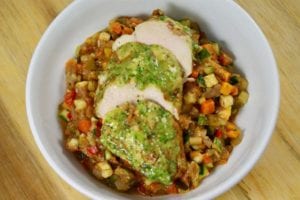 Whether you are taking care of a loved one locally or trying to manage care from miles away, making sure they are getting a balanced diet isn't easy. If you are responsible for providing their meals, you have to juggle your daily activities with the time needed for their care. Even if you have another caregiver, the meals can provide some much-needed respite.
Our prepared meals for seniors can give families peace of mind. You want to know your loved one is getting the care and nutrition they need to help them remain healthy and independent.
Among older people living in their own homes, about 1 in 10 live with under-nutrition. On the other hand, as much as one-third of people over the age of 65 suffer from over-nutrition (over-eating), resulting in obesity and the medical problems associated with it.
Some older adults lose a desire to eat but a variety of foods they already love mixed with potential new dishes can get them excited about their meals. They'll also have portion control so you know they won't be under-nourished or over-nourished.
The meals are not only packed with protein and other nutrients but also they taste great. The senior meal plans include foods such as meatloaf, pot roast, barbecue chicken and beef stroganoff. There's also citrus crusted salmon, chicken marsala, sautéed shrimp and gnocchi bolognese.
We also have a variety of other menus, including diabetic, vegan and vegetarian. You can purchase a one-week trial to see how your loved one likes them.
The meal plans are inexpensive, especially when compared to taking the time to prepare the meals yourself and purchase the ingredients. It's worth it, too, if you can help your loved one stay healthy and independent.
For more information or to sign up, visit our website at freshfitnaples.com or call 239.595.2503.