Vegan dishes aren't easy to find in many of the local restaurants. However, preparing meals at home isn't easy either.
It takes a little extra brain power and shopping savvy to prepare a wide variety of delicious vegan meals. You have to prepare ahead of time and may need to go to several places to get your ingredients.
But, Fresh Fit Foods has a solution. There's a large variety of meals on the Plant-Based Menu and you can get them delivered for lunch or dinner, or both.
You'll not only love the taste but also enjoy the health benefits, the convenience and the fresh ingredients.
Vegan health benefits
A vegan diet avoids consuming any products that are derived from an animal. Several studies have shown that this diet provides more fiber, antioxidants, and beneficial plant compounds than a normal diet. Additionally, the diet is richer in potassium, magnesium, folate, and vitamins A, C and E.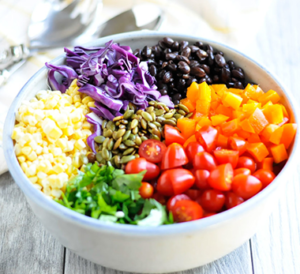 There are many health benefits to this diet. It can help reduce the risk of Type 2 diabetes, and also reduce the risk of heart disease.
According to a study published by PubMed, 50%-78% of individuals on a vegan diet have lowered their risk of developing Type 2 diabetes. Also, 43% of participants were able to reduce the amount of medication used for lowering blood sugar.
Transitioning to a vegan diet from an average diet will naturally lower your calorie intake and, therefore, can help with weight loss.
The choices for a vegan diet are growing, including meat substitutes. Several vegna meats have made their debut, offering a meat-like consistency option.
At Fresh Fit Foods, we offer Beyond Meat, a well-known plant-based meat product. For example, our All-American "Beyond Beef" Burger is served on our plant-based menu with a fresh side of cauliflower salad.
Choosing one of our meal plans can help you to build a healthier diet and boost your immune system. You'll like the variety, freshness and taste. Contact Fresh Fit Foods at 239-595-2503.