Now is a good time to boost your immune system by eating healthy. Although it is always important to do all you can to be healthy, it is even more essential now.
Building a strong immune system and improving your health helps reduce your risk of illness. Certain foods can give your body the nutrients and energy it needs to fight off viruses, disease and other illness.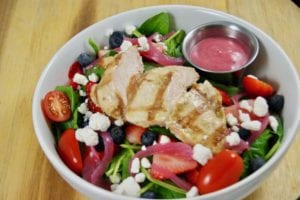 The key is eating the right foods in the right portions. Too much of certain nutrients aren't good for you.
Foods that boost your immune system
Chicken or Turkey: Poultry is high in Vitamin B-6 and just 3 ounces of light meat can give you about half of the recommended daily amount. B-6, among other things, is vital to forming new and healthy red blood cells.
Spinach: It's packed with vitamin C, antioxidants and beta carotene. It can help increase your body's ability to fight infection.
Broccoli: This is a super healthy vegetable rich in vitamins A, C and E as well as antioxidants and fiber.
Citrus: These fruits are high in vitamin C and act as an antioxidant. Vitamin C is also needed to make collagen and helps with the absorption of iron.
These are just a few of the healthy foods to help boost your immune system. There are many foods that help boost your immune system. Most fruits and vegetables are good for you, and your body needs protein, fiber and other nutrients.
The benefit you can get from any food depends on how you prepare it and how much of it you eat. It's important to eat a balanced diet.
If you aren't sure how to prepare healthy meals or have trouble staying on a healthy meal plan, we can help. All our meals are healthy and made with fresh, local ingredients. The meals you get for the week as part of your plan provides a balanced, healthy diet.
The gluten-free meals are delivered weekly and are already prepared. All you have to do is heat up the ones that need it and enjoy. We have weekly and monthly plans and menus include vegan and paleo as well as a menu for seniors. For more information, visit our website or call 239.595.2503.