Pumpkin recipes are popular this time of year. From pies to coffee, there's no shortage of pumpkin flavor. The fall favorite can be savory or sweet and can be a healthy choice, depending how it's prepared.
On their own, pumpkins are very nutritious and low in calories. It's how you prepare them and what you add, that can make them loaded with calories.
Pumpkin is a nutritious fruit
Pumpkin is a winter squash and is considered a fruit since it has seeds. However, it is more like a vegetable when it comes to nutrition. It is loaded with a variety of nutrients, including fiber, vitamins, minerals, and antioxidants.
The seeds are low in carbs but high in fat, making them a popular snack for people who follow low carb or plant-based diets.
The vitamins and minerals in the fruit help boost immunity and eye, skin, heart, and metabolic health, according to healthline.com.
Pumpkin Recipes
Pumpkin is popular in pies, muffins, bread, pancakes, soup, side dishes as well as many main courses. However, many baked goods may have great pumpkin flavor but aren't healthy choices. Either are pumpkin flavored coffees and similar drinks. Some sweet treats such as pumpkin-spice-flavored muffins often don't even include pumpkin.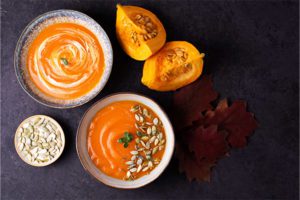 So how do you get the health benefits and enjoy the pumpkin flavor? Here are a few healthy options.
Creamy Roasted Pumpkin Soup: This recipe has dairy-free, gluten-free, and vegan variations.
Pumpkin Bread: This bread from Pioneer Woman is made with coconut flour and maple syrup so it's lower in carbs and sugar.
Frozen Pumpkin Mousse Pie: Try a new twist with your pumpkin pie dessert this year.
Roasted Pumpkin & Brussels Sprouts: A unique side dish for your holiday meal.
Roasted Pumpkin Seeds: Learn not only how to roast them but also get several seasoning suggestions.
These are just a few of the healthy (or healthier) dishes you can make with pumpkin. It's always nice to have some healthy options as you prepare for the holidays. It can be a tough time of year to keep on a healthy diet.